what competIQ is
competIQ leverages human networks to generate the most comprehensive, statistically rigorous business intelligence available.

Human intelligence -- whether it's from internal stakeholders or external expert networks -- is the most powerful and untapped resource in business. competIQ gets at it by combining two extremely powerful mechanisms: Wikis and Prediction Markets.

Wikis – the best way to gather intelligence from
many sources, and aggregate it in one place.

Prediction Markets – the best mechanism to model group intelligence for quality and statistical weight.
Leveraging these tools in a sophisticated and seamless way, competIQ converts many stakeholder brains into one objective, comprehensive 'superbrain'. The result is extraordinary – the full scope of stakeholder thinking about a challenge, and a strong statistical model of quality around that thinking.
Simply put -- competIQ is the most powerful way to access and model the best thinking of an expert human network. The possibilities -- and the ultimate rewards -- are as limitless as your business objectives.

how it works
competIQ is a web platform.

In competIQ's Intelligence Market, each strategic question forms a discrete marketplace. Approved participants contribute best solutions and strategies to address the question, and those solutions are transformed into idea stocks that are traded by the market. It works like this:
A business leader posts a strategic question on the competIQ platform.

Stakeholders – anonymous to each other – contribute solutions, or strategies that address the core question. Each contribution is IPO'd instantly into the market as it is made. Stakeholders, using virtual capital, buy and sell the idea stocks, in pursuit of virtual profit.

At market close, the idea stock(s) with the strongest algorithmic signals are deemed most valuable and tractable by the stakeholder group. And in addition to statistical value, the market reveals its logic – how it came to its conclusions, and why.
While simple in concept, competIQ is extremely powerful in practice. competIQ delivers what it purports to deliver: the full scope of objective stakeholder intelligence about key organizational challenges, in a format that can be measured, trusted and leveraged.

competIQ can be used for myriad strategic challenges
– in for-profit enterprise, government, cultural outreach, scientific innovation, foundation models, and more.
How competIQ generates groundbreaking intelligence
participants
competIQ participants are members of your enterprise community, or global experts selected from our affiliate community of over 100,000 subject leaders:
Members of your enterprise's stakeholder community;
Professional affiliates, advisers and consultants;
Qualified parties from customer- or audience-communities with applicable topic fluency;

Third-party subject experts, advisers and consultants.

Maven
competIQ's global professional network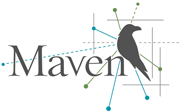 Maven is the Global Knowledge Marketplace. competIQ's partnership with Maven connects your enterprise to over 100,000 subject matter experts and thought leaders in virtually every business vertical.
benefits & roi
competIQ's benefits to enterprise are extraordinary.

competIQ:


Reveals the full scope of intelligence within a stakeholder group;

Models that intelligence for quality and predictive success;

Creates crucial engagement and stakeholder investment in the organizational mission;

Mitigates the costs of traditional 'innovation' tools;

Provides rigorous decision support for organization principals in high risk-reward scenarios.
competIQ allows the enterprise to harness the true, objective knowledge of the stakeholder community, and convert that knowledge to a rigorous statistical model for strategic success. For the first time.

sample topics
competIQ has been deployed to address and evaluate strategic challenges across many disciplines. Following are a few examples:
How should a new innovation be configured to serve a market need?

What is the optimal course of marketing rollout for a new product or service, considering known resources and constraints?

Where, in a given market sector, do the most potent business opportunities reside? Why?

What is the optimal communications strategy to support and fuel a key business goal? Why?

What are the most salient market benefits and / or detriments to an emerging product profile?

What is the most effective way to identify (and measure the success of) funding candidates?

How can the organization best take advantage of a dynamic economic environment, particularly if that environment impacts fundamental resources vital to the organizational mission?

What programs promise the greatest ROI for finite investments? How can this ROI be retained over time?